First, please enjoy this lovely video, which was compiled in May 2020 by Gary Solomon of the

Laidback Bike Report….
In Scotland, the Covid rules relaxed on August 9th '21 to allow unrestricted gatherings in private homes. This means that InnerTuba house concerts can be held once more ….. However I'm careful to acknowledge that not only me, but also potential hosts and audiences will perhaps be cautious about gathering indoors – even in fairly small numbers. We'll feel our way forward over the UK winter months.
House concerts – Mmmm – I had read about them, then been to a few, then decided to have a go at performing at one myself. I like the grassroots simplicity of them – the gathering of like minded people in the warmth of a home.
Around 20 of us assembled at Stewart, Sandra and Alex's house in Alness, Scotland. Our hosts were sublime !
I played a varied programme including original compositions, by William Gilmour and Katrina Gordon using piano accompaniment backing tracks recorded by pianists Ian Honeyman and William Gilmour, and some multi track recordings of me on tuba, playing live over the top !
I also tested the technology of delivering a photo and video presentation from my laptop through the house TV. It all worked really well….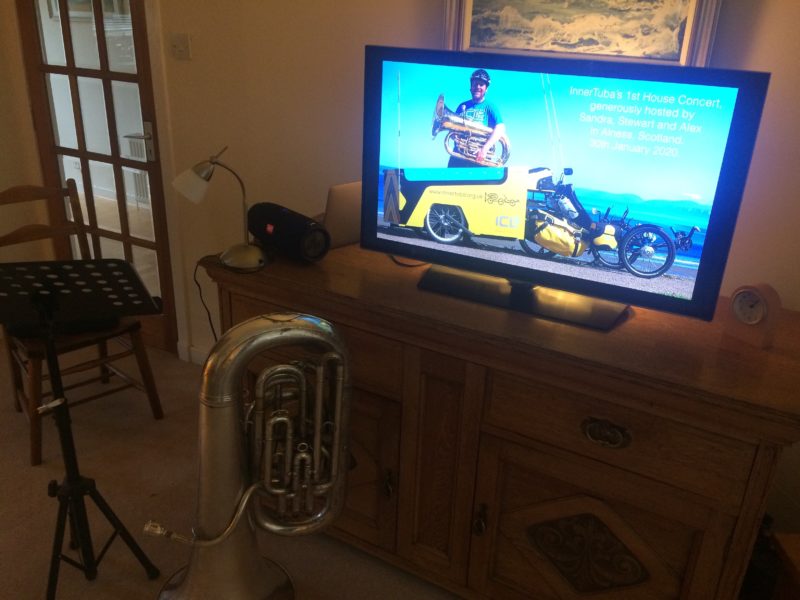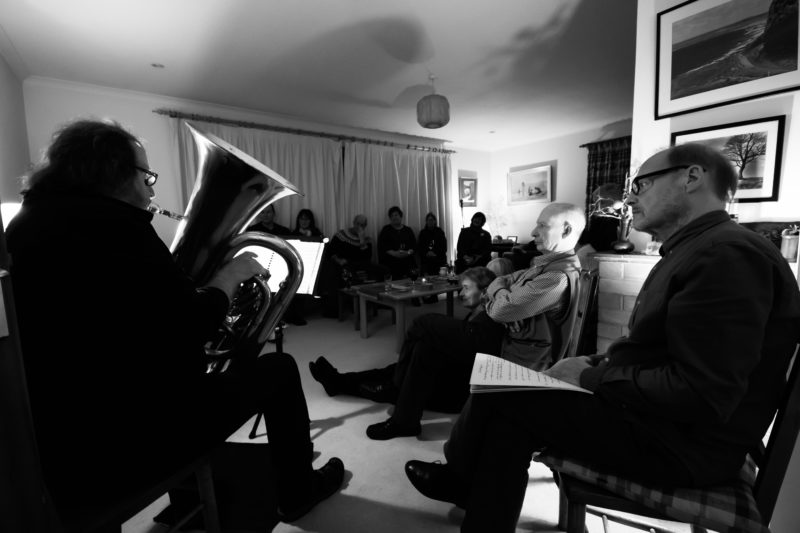 Here's what the hosts had to say about the event:
We were privileged to hold in Alness the first of a new series of house concerts featuring Inner Tuba. There were around 20 of us, including neighbours and friends, linked by themes of music, travel, cycling,tricycling, making sense of the past and exploring the unknown. The music, live and recorded, blended beautifully, and with some electronic wizardry the whole audio-visual experience was incredible in our own living room. This was appreciated by the company who enjoyed a glass of wine and a light supper including quiche, veg curry, cake and coffee. We wish the project every success, and look forward to being involved in the future. We hope other hosts will get as much enjoyment as we have.
Stewart, Sandra and Alex.
I'm keen to perform at more house concerts – either whilst on tour or between tours, during winters to come.
The deal is quite straightforward. The host generously provides their house, invites every one of their friends, optionally offers up some food and drinks (or invites guests to bring their own) and encourages the audience to Donate Money toward InnerTuba's development.
Upcoming House Concerts are all postponed due to Covid 19….. but I'm still actively encouraging you, prospective hosts from anywhere in the world, to express an interest in hosting InnerTuba concerts in your homes, when it's safe for us to gather again… Here are some invitations…..


Cromarty, Highlands, Scotland – POSTPONED.
Lancaster, NW England – POSTPONED.
Spartan Press Music Publishers, Kingussie, Highlands, Scotland – POSTPONED. Not a house, but a big warehouse full of sheet music ! www.spartanpress.co.uk
Beauly, Highlands, Scotland – when we can.
Ullapool, Highlands, Scotland – when we can.
Wellington, New Zealand – when we can.
Bare, NW England – when we can.
Waterloo, London, England – when we can.
Pickerington, Ohio, USA – when we can.
Nittorp, Tranemo Kommun, Sweden – when we can.
Pune, Maharashtra, India – when we can.
Moline, Illinois, USA – when we can.
Isen, Bavaria, Germany – when we can.
Ankeny, Iowa, USA – when we can.
Jackson, Mississippi, USA – when we can.
Cam, Near Dursley, Gloucestershire, England – when we can.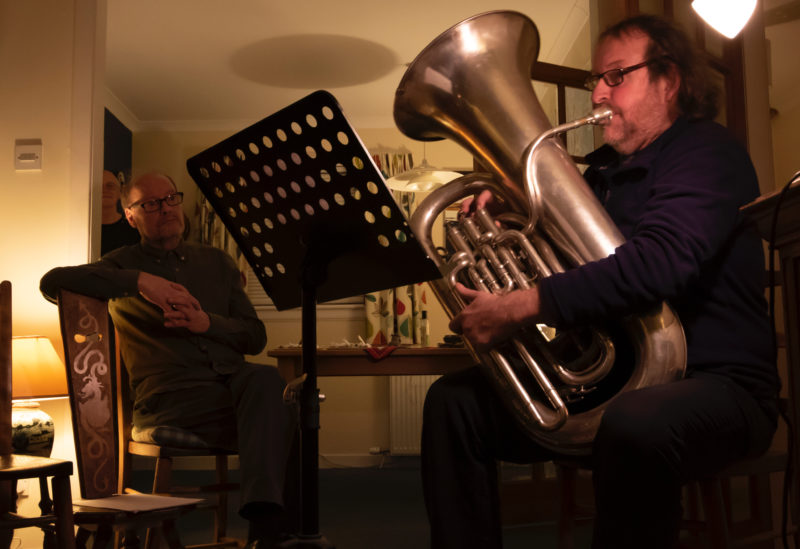 If, like me, you are privileged to have a home, please consider hosting a house concert – around an hour of music and tales of international travel with a tuba, tricycle and trailer, followed, maybe, by delicious food, Get in touch today !