If you like what InnerTuba is doing and want to support it, donations are welcome. Any monetary donation, no matter how small, is appreciated.
This is how it works….
InnerTuba is a project operating in business. I am self employed. I sell my "product" – live musical performances – on the open market, to generate income. Like all businesses, I submit my accounts to the tax authorities. My business is registered in the UK. So far so simple !
Like all businesses, I can generate income streams to it from a variety of sources. Inviting people to contribute to it is just one – but a good one – investment being the lifeblood of development worldwide.
In common with increasing numbers of projects across the world, InnerTuba has strong social and charitable aims. Our ideas and work styles exist to be "Socially Enterprising" in one way or another.
InnerTuba is in business to achieve its ultimate goal, which is to:
"Pedal Coast to Coast across Canada, fundraising for charities and giving performances en route – the InnerTuba Trans Canada Tour".
In preparation for that, InnerTuba's development inevitably carries costs. By keeping my own personal daily living expenses – shelter, food, motor travel etc – within modest but adequate limits – the needs of the project can be met quicker, as income from all sources is invested directly into it.
As well as donating online you can of course hand me money, or send cheques, in any currency. Please contact me about these options
This absolutely pristine, brand new Canadian $5 bill found its way into a collection bucket for InnerTuba at a concert in 2014.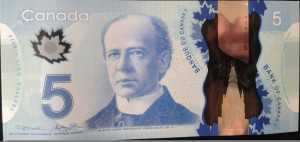 In the spirit of funding future development I intend to keep this bill – serial number HBS1652566 – as a benignly prophetic talisman, and then redeem it for pancakes and maple syrup at journey's end, St John's, Newfoundland, one fine morning soonish…..
Thank you. Jon Hodkin.