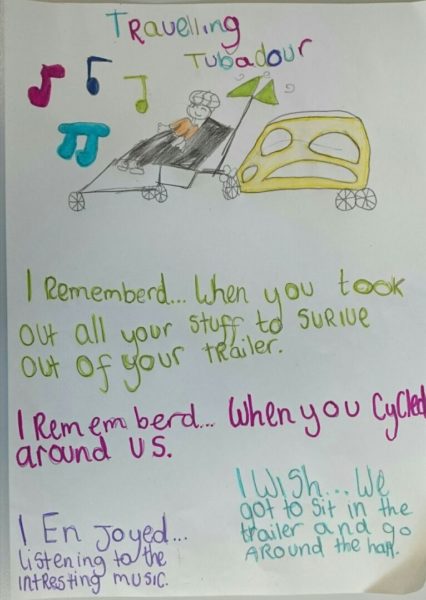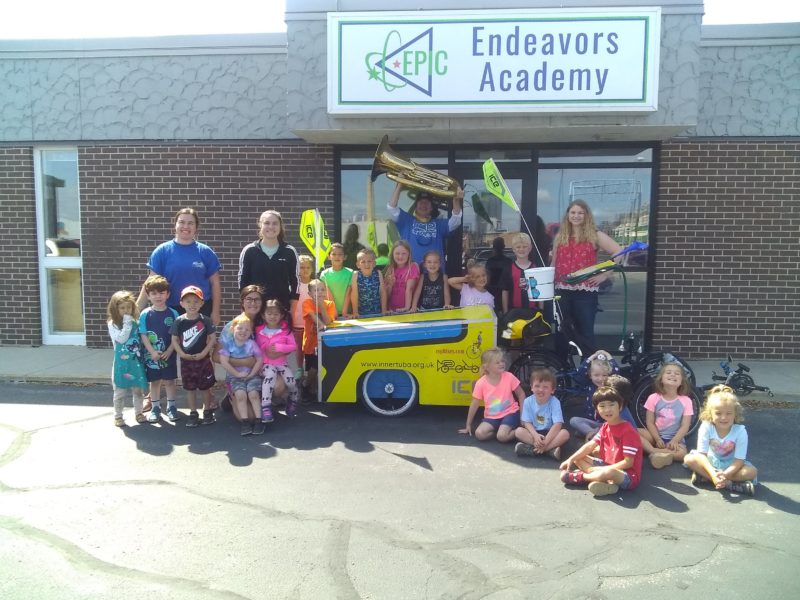 "Hello, I just wanted to thank you for your great performance at my son's preschool – Epic. He loved it so much and had enjoyed it so much!"
Nasibe Far – parent of one of the children pictured above. Rochester, Minnesota, USA
"The Rochester Community Band greatly enjoyed having Jon Hodkin has our guest tuba soloist this past August! Jon's interaction with the band and the audience was so enjoyable, fun and educational! Jon performed two excellent pieces with the community band, both written for InnerTuba! He also shared about his journey, cycling and music making. His sound is superb and the audience was immediately engaged and extremely receptive. I would highly encourage any group to work with Jon. Not only is he an outstanding solo tubist, he is kind, organized and a true joy to work with. The energy in the room during the performance was so positive and the event was truly a highlight for the The Rochester Community Band. The Rochester Community Band is hopeful to have him back in the near future! Jon showcases his care for others so well during his performances and speaking".
Tony Boldt, Musical Director of The Rochester Community Band, Minnesota, USA
"We were so excited to host InnerTuba at the Family Museum in Bettendorf, Iowa, USA and would encourage anyone with a young, inquisitive audience to do the same. Our museum seeks to engage children 8 & under, as well as their families, in experiences that spark curiosity and help them explore their interests. Jon's program was the perfect fit for our young visitors as he is skilled at speaking to children on their level and fostering wonderful, imaginative inquiry. Jon is a great speaker and performer, regaling children with magical stories of his cycling adventures across the world, while also paying close attention to the science of sound and music with his tuba. Jon's versatile approach to storytelling, education, music, and science makes InnerTuba a fantastically captivating show for young learners and beyond!"
Carissa Dewaele, Events Co ordinator, Bettendorf Family Museum, Iowa, USA.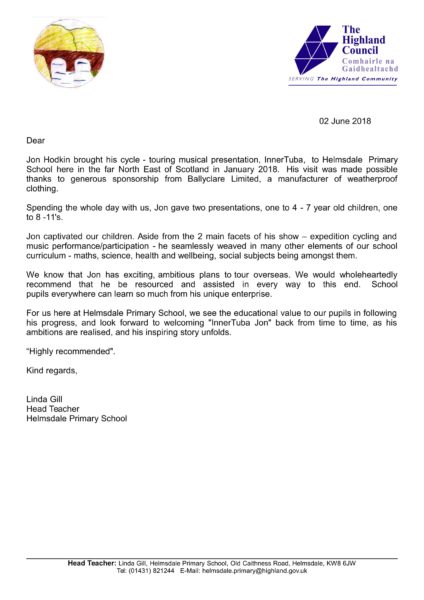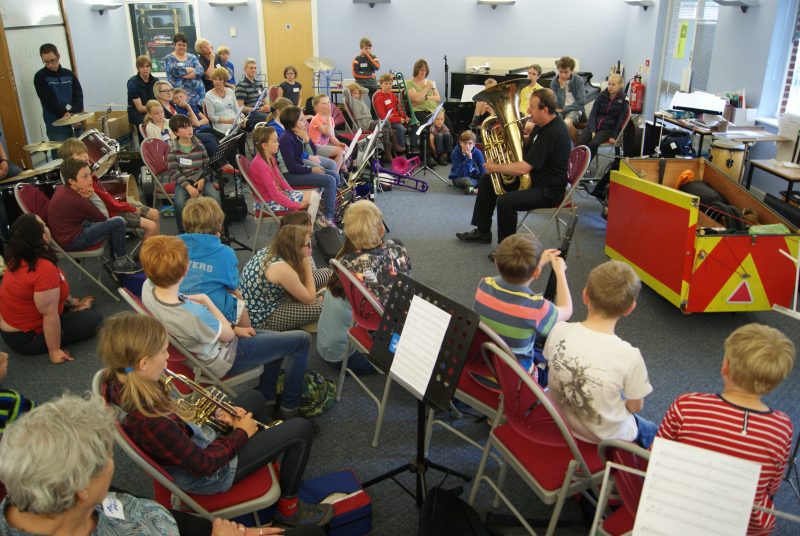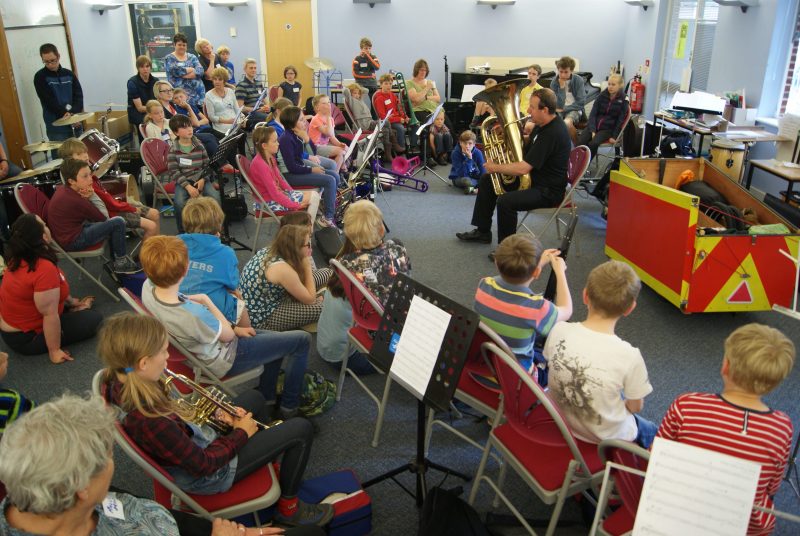 "In the summer of 2016 myself and some like minded people on the Edge of the Cotswolds, North of Bristol decided to do something to inspire local children to think about brass instruments. It turned into the first Cotswold Edge Festival of Brass, in which people of all ages participated. In the week leading up to the festival we brought music to schools in the area and at the weekend we had a day of fun master classes and rehearsals then a gala concert in the evening.After seeing some advance publicity of our event Jon Hodkin contacted us and explained that he would be in the area at roughly the same time and perhaps, in his rather wonderfully understated way, he might be able to get involved. At the time he was part way through cycling his unique musical show, InnerTuba, from John o Groats to Land's End – a journey which he went on to complete. What happened next was truly amazing and as I said to the press at the time Jon's presence felt like 'a gift'.
Jon is a man with a story. In fact many warm and genuinely inspiring stories. Indeed with his travelling tricycle, trailer and tuba, Jon is the embodiment of a continuing story that is growing all the time.
Jon pedalled into town ahead of schedule, and we met on the weekend before the festival. Jon filled me and other festival organisers in with the details of his journey.
On the Monday Jon and I visited the Hollies, a residential home for older people in Dursley. This was the first time I actually saw Jon deliver his 'show'. I was immediately impressed. Jon has an easy warmth and is a natural at delivering music to any type of audience. At the 'Hollies' his pace was perfect for the older guests. He was not too fast and had patience with every question asked. He has a natural charm and easy wit – within moments he had the guests chuckling. It is his music that is the central pillar of Jon's story. He gently demonstrated how the instrument works – there were a few props such as a shell from the Caribbean and a hosepipe to show that any tube can make a noise. But then the tuba. And what a sound! I think the first thing Jon played was a beautiful, gentle 'my bonnie lies over the Ocean'. Music is a universal language and can carry many messages to different people. The atmosphere in the room when Jon played was astounding – he had everybody's full attention and that was only the beginning! He went on and played a wonky march, some jazz in fact lots of different pieces all of which introduced with a story or two in a very entertaining and life affirming way. He even roped me in and we played a couple of tunes we had prepared. They didn't want us to go but sadly we had to as the press were waiting outside ready to interview him!
Over the next week I had a huge smile on my face as I witnessed Jon bring his music and the story of the tricycle to many schools in our area. He instinctively knows how to pitch each session exactly for the age group involved. With genuine enthusiasm, sometimes challenging, often amusing but always tremendously interesting and thrillingly inspiring Jon delivers a music workshop as the very best of practitioners.
Over the week he demonstrated to me two types of workshop. The first was a presentation of his story. The children would be invited to sit, watch and listen as Jon unfurled his 'things from the box' whilst explaining his story about the journey and peppering it all with musical examples gradually delivering a short concert to them. The other, if he had enough time, would be to get the children involved. Perhaps they could clap their hands, or sing along making the workshop fully interactive. In some other sessions we worked together. Jon is very keen to develop his skills. I find the very best of people are like this. He is keen to learn new ideas and, knowing I had experience in this area, he wanted to get some ideas from me. We worked together brilliantly straight away. He would follow my lead perfectly every time. He was very professional and sensitive to any nuances in the sessions. In truth he was very easy and a pleasure to work with!Although I saw Jon deliver some of the best music workshops I have ever seen it is the symbiotic relationship his story has with the tricycle that is so amazing. He manages to combine the 'human power' needed to literally get the rig moving with the 'human power' needed to play the music. It is his final message that truly packs the full weight of inspiration to the children: 'You too have a mind and a body. You too can go into the world and do what you want with the very tools you already have'. It is a simple message but one that has a very important meaning in our increasingly unsettling world. Furthermore when delivered by the man who himself is the very embodiment of that message then its genuine, simple inspiration cannot be missed.
I heartily recommend any school, community setting or musical group to invite Jon to come to talk and play music to and with them. It is of great importance that people – especially school children – get to meet such an inspiring man.
On the day of the festival itself Jon was on hand to take a masterclass or two. By now I had no doubt of his ability to handle anything and naturally he didn't disappoint. His sessions were very well received and were very inspiring.
In the evening concert Jon played a piece written for him by Franner Otter. It's called 'Tuba Odyssey – the Journey of InnerTuba"' written for Jon on solo Tuba and accompanied by a brass band. Not only could Jon show off his skills as an accomplished soloist but the performance was a highlight of the concert. The piece describes the journey Jon is on, including traffic sound effects and soaring tunes. It was a truly fitting tribute to his time with me over the period of the festival.
It's impossible to underestimate how important Jon was to the success of the Brass festival. He put in a Herculean effort performing to more than 1,000 children that week, not to mention all the miles getting to the schools – and it is rather hilly round here! The festival was a roaring success and we thank Jon for all his efforts. Can you come back next year please?
As for the future I would like to see innerTuba develop and continue on this journey/story to bring music into schools and to adult audiences. Jon already has the skills and experience needed to deliver music workshops to any age group. It is important that people get to see, hear and experience Jon and his message. As the world changes and the news, current affairs, politics and economics are full of bad things, mean people, selfishness, greed and war it is of the utmost importance that children learn that this is not really the truth. The truth is that they can do whatever they want and have the power and tools to do so. There are many people in the world that do good for each other however we seem to be crowded out by the noise from Television and the press. What better way to show children what they can achieve than Jon, his music, his message and the story of innerTuba? I would like to see him supported in the future to bring this very important story of music and humanity to as many people as possible".
Alan Swain Bmus G.S.M.D, L.G.S.M.D. Principal Bass Trombone, Welsh National Opera. Bass Trombone Teacher, Royal Welsh College of Music and Drama.Trombone Teacher, Junior Royal Welsh College of Music and Drama.