Had tremendous fun beneath Queen Victoria's statue at Dalton Square, playing in the wonderful North West of England Sunday sunshine with Morecambe Brass Band, as part of Lancaster Music Festival, 2014.
Thank you to Neil Piggott and Nick Dagger for the pictures!
There were over 40 venues and locations and, once again, hundreds of superb acts local, national, and from abroad, covering a vast array of genres. Throw in some street performers for good measure (courtesy of Laugh My Outdoor Arts Off) and there was four days of fun for all the family!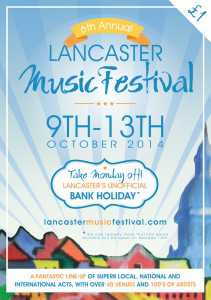 Now in its 6th year, this festival gets better and better. Don't miss the next one!