KUDOS Shower Products Ltd make fantastic luxury shower products in Cumbria, NW England. They have offered their services to InnerTuba, and today I went to their enormous factory to meet them.
What, you might ask, is a shower manufacturer going to do for InnerTuba ?
Well, at KUDOS they know more than a little about waterproofing, they know a lot about lightweight, strong plastics, and they are well up to speed with the latest plastic sealing and chemical bonding techniques.
So it's time, as a one off hugely generous gesture, for KUDOS Shower's skilled workforce to apply their skills to tackling the build of a new plastic TubaTrailer body. We all recognise that this is a big experiment, and we will keep you posted of developments as they arise, here in Latest News.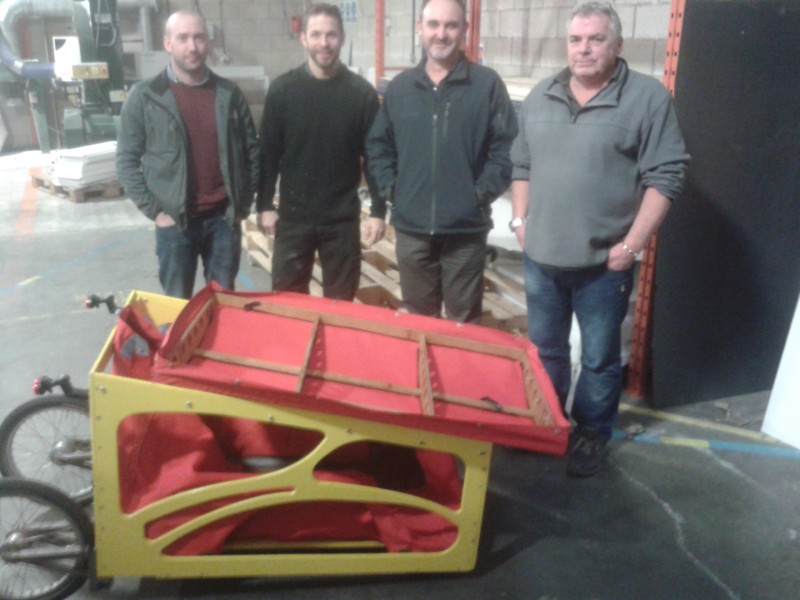 Just a few of the 90 strong KUDOS workforce. From left, Jonathan Phillips, James Ainsworth, Mark Buchanan and Mark Edmundson.
They will start by waterproofing the existing trailer body, before setting out to build a brand new Expedition proof replacement.
You never know, it might be fitted with a luxury shower room too….

Visit them at www.kudosshowers.co.uk