In large part, the reason for InnerTuba's existence is to rise to musical and cycling challenges. Inevitably that means –  fairly routinely –   facing situations a tad beyond the comfort zone, in pursuit of its overall aims.  On my arrival at the campsite in Biggar, I was well and truly uncomfortable….
Soaking wet and very cold, I had just endured a rain and spray soaked ride down a busy road shared with huge quarry and logging lorries. Deplete of energy and a bit clumsy handed, I was struggling to put up my tent. The prospect of an evening cooped up under canvas listening to the hammering of rain, generally trying to dry out lay ahead… yuk ….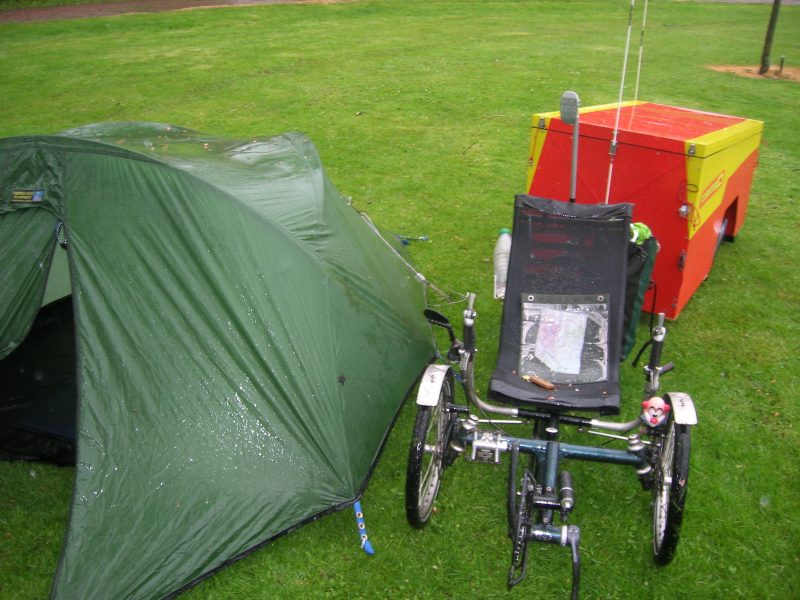 A couple  wondered across from a nearby caravan, and asked me lots of questions as I put up the tent.  To be honest, at the outset I wasn't really in the mood. I just wanted dry and a hot cuppa.
"Do you want a cuppa tea ?"  I didn't have any hesitation answering that one. A pint mug arrived within 2 minutes, along with a bag sugary doughnuts. I couldn't resist one.  Spirits lifted, it was almost time for introductions. But then….
"We are staying in our caravan, but we have a motorhome on the carpark over there.  You can stay in that if you want to.  We aren't using it. Bed, cooker, and all that, but the electrics not working"….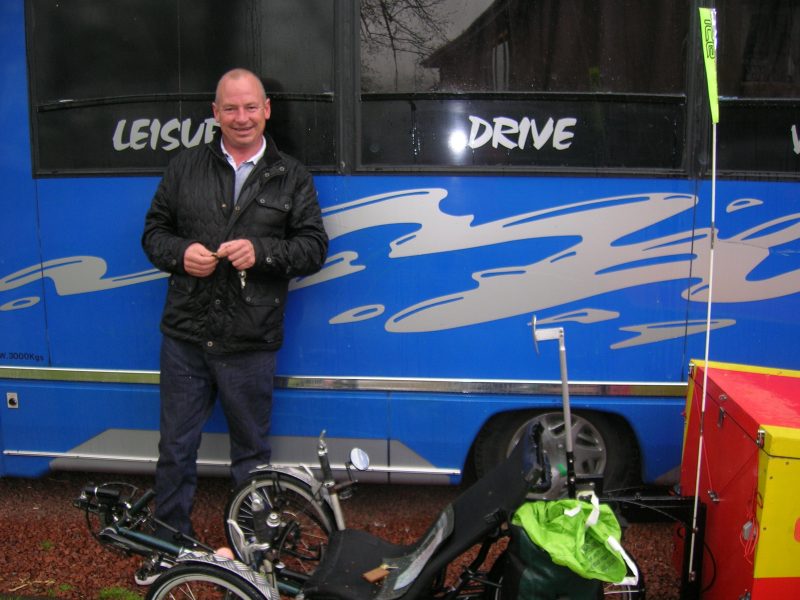 Here's Stewart, having agreed with his partner Mary,  handing over the keys… and me happily home and dry…. in my luxury pad/ music practise studio. I ended up staying 2 nights, whilst the rain poured heavily, on and off.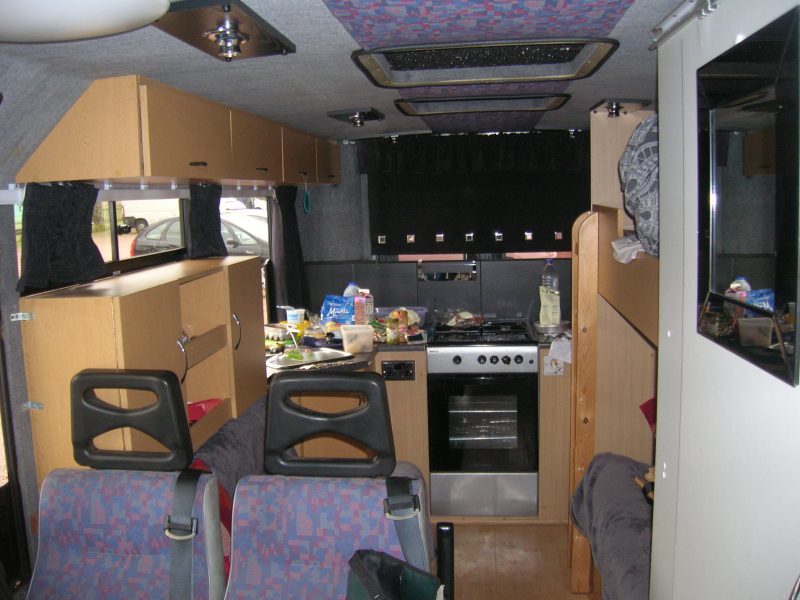 I went to explain the new arrangement to Jim, the campsite manager, expecting a different fee structure to apply.  after all I was no longer in a tent. "Don't pay me anymore, just get them a bottle of wine or something. It's good you are out of the weather, and you can play away your music in there no bother to us".
On my final departure, I went back to Jim to hand back the key to the loo and shower block and collect my £3 deposit for it. A much larger figure was put into my hand.  "I've looked at your wee video on your website, read about how to donate, and wish you good luck with getting across Canada".
It was almost time to leave the immaculately landscaped and maintained Biggar Caravan Park.  Sausage butties and mugs of tea first with Stewart and Mary in their caravan. They told me something of their recent story, despite which they have the reserve to think so generously toward a complete stranger.  I wish them times of calm and sunshine very soon, and will phone them when I get a signal again, to see how they are getting on.
This is just one of many examples of how InnerTuba is by no means a solo endeavour.  Its development and successes are due to those who, in so many ways, choose to get involved.  You know who you are, and thank you.