'What I love about music is we don't know what it is, how it works, and it doesn't matter.

It's all about totally personal response, it helps us find out who we are, and we all deserve that, however many days we're given.' – Victoria Wood (patron of Jessie's Fund).

Jessie's Fund is a UK charity helping children with additional and complex needs through the use of music. They work with children in hospices, special schools and in other settings nationwide, giving them access to music-making and to music therapy.
The generosity of the audience at the recent Cartmel Priory concert resulted in £59.67 being raised for the funding of InnerTuba's future development. Thank you, one and all.
I have decided that this money will be put to good use by partially funding my attendance at a two-day Jessie's Fund course in November, during which I will learn more techniques involving music making with children, and young people who have special needs. These new skills will then be incorporated into future InnerTuba workshops and performances.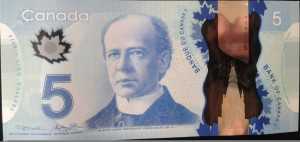 As well as the UK currency, this absolutely pristine, brand new Canadian $5 bill found its way into the bucket. (Well, I may have mentioned a thing or two on the night about planning the InnerTuba TransCanada Tour….)
In the spirit of funding future development I intend to keep this bill  – serial number HBS1652566 – as a benignly prophetic talisman, and then redeem it for pancakes and maple syrup at journey's end, St John's, Newfoundland, one fine morning soonish…..
Can anyone recommend the best pancakes in town?