Minutes before an early morning departure InnerTuba Towers always looks untidy….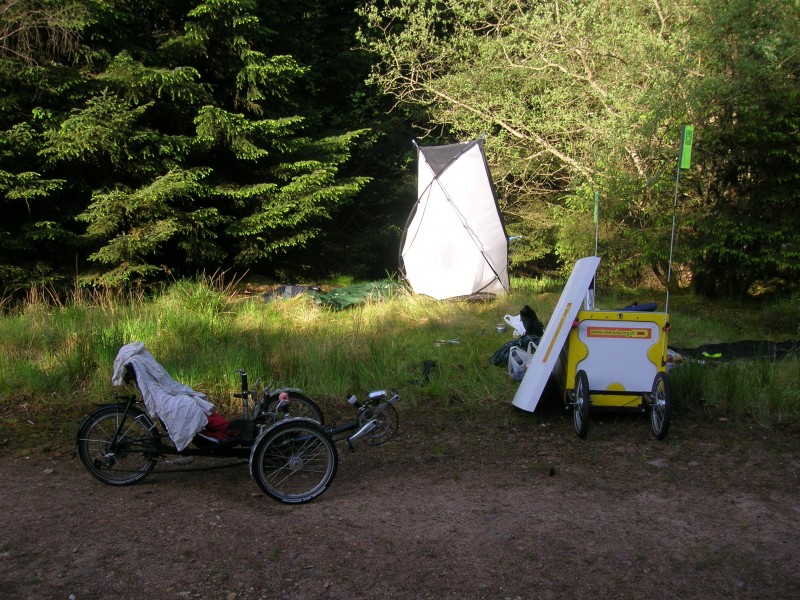 In this shot the tent inner is upended to assist drying it out.  All the other stuff of living, from coffee pans to sleeping bag liners via milk and maps –  lies hither and thither. I quote below from Visit Scotland's website.…
"Responsible wild camping
In order to camp safely and responsibly, make sure you read the Scottish Outdoor Access Code which provides guidelines for accessing the countryside and choosing appropriate campsites.
Wild campers should apply the good practice 'leave-no-trace' guidelines as detailed on Scotland's Outdoor Access website.
These are:
Avoid overcrowding by moving on to another location
Carry a trowel to bury toilet waste and urinate well away from water courses
Use a stove or leave no trace of any camp fire. Never cut down or damage trees
Take away your rubbish and consider picking up other litter as well
If in doubt, ask the landowner. Their advice might help you find a better camping spot"….
So, do we think InnerTuba met the access code last Wednesday night in the woods, near the town of Keith ?  I hope so, for it is a pleasure to have the sanction to enjoy Scotland, respectfully, in this way….