Meet Derek Horsfall – like me he is a tuba player. I had the pleasure of performing alongside him with Wotton Silver Band at the Cotswold Edge Brass Festival Gala Concert last Sunday evening.  In fact I enjoyed it so much that I decided to get together with Derek at his home the following day….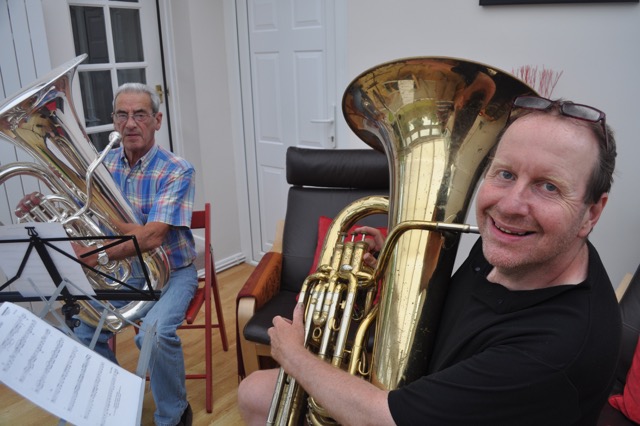 Now Derek began playing with Elland Silver Band at the age of 9 – in 1950.  He has been playing more or less ever since. Between 1962 and 1971 Derek was a member of the World Famous Brighouse and Rastrick Band, with whom he made many recordings and BBC broadcasts. On moving South West he played with, amongst others, the Sun Life Band.
After a bit of duetting, Derek put on this record.  We listened to "The Mastersingers", with Derek playing alongside other luminaries of the day… including Lyndon Baglin on euphonium – stunning.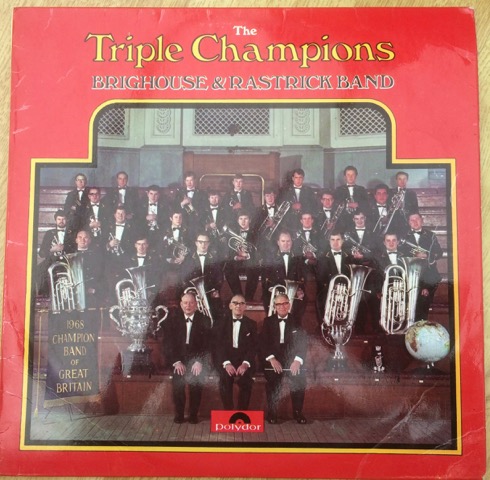 "The Triple Champions (Polydor 583 047 – 1969) celebrates Brighouse's National Champions and World Champions victory of 1968 (actually one contest) and their award of BBC Band of the Year. Centre stage is Frank Wright's arrangement of Wagner's Prelude to The Mastersingers, a completely ignored arrangement these days in any shape or form". 4 Bars Rest.
Derek, it was a pleasure and an inspiration to perform with you.  I hope that, in 25 years time when I am 80, I will be playing with your skill, passion and energy. Keep in touch, and keep it up Sir !