There is a Japanese concept called 'Kaizen'. It basically translates as 'continual improvement'. Just a little improvement is fine. Regular improvement is best, not improvement in fits and starts. Improvement rarely happens by itself or by accident and, like all good things, it takes a fair bit of work to achieve.
There were many factors which had to come together before InnerTuba could declare itself match fit and back on the road in July 2014.
For example, pictured below is the new light weight but structurally strong TubaTrailer Body in its production stage – it was just one of the continual improvements needed before the restart of touring in 2014.
InnerTuba has, from the beginning and always will, striven for improvement in all aspects of its development.
Here are some more examples of that in progress:
Physical Fitness – maintaining good levels of endurance and fitness for life on the open road, travelling and performing.
Musical and performance excellence -continually extending the repertoire and practising, practising, practising, continuously developing the best possible InnerTuba shows, ever.
InnerTuba Rig – preparing  the ICE Trike and TubaTrailer, and sourcing all the other expedition grade kit necessary for the demands of months spent on the open road, in all weathers, in so many locations, both in the UK and beyond.
Connecting with others – and raising awareness of all that InnerTuba has to offer, by good management of social media, and face to face contact before, during and after performances.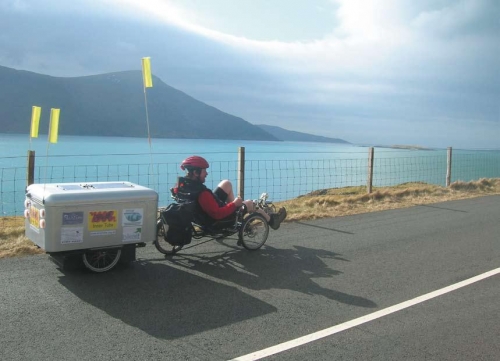 This stylish TubaTrailer is the one being replaced.
The brushed aluminium construction certainly has strength and durability. The "wow" appeal is also a plus, but it has proven to be too heavy and cumbersome, especially in challenging terrain such as the Scottish Highlands. A much simpler, lighter, more manageable design will prove itself essential for the future.
InnerTuba has the commitment in plenty and pledges to use the energy and generosity of its many supporters wisely in its continual quest for improvement, and the ultimate goal of a tribute InnerTuba TransCanada Tour.