A splendid time was had this past weekend in the company of Nick Lobnitz (left in picture) of Carry Freedom and Paper Bicycle fame plus legendary bike doctor Colin Stones (right) of www.bikerepairslancaster.com at Nick's workshop in Scotland.
Ace cycle trailer designer Nick donated a generous amount of time to InnerTuba, guiding both Colin and me through his ideas for creating the optimum chassis configuration for towing large loads behind a recumbent tadpole trike such as my ICE Trikes rig.
We also came away armed with a goodly supply of materials, courtesy of Carry Freedom; with which stalwart InnerTuba supporter Colin can fabricate a prototype chassis.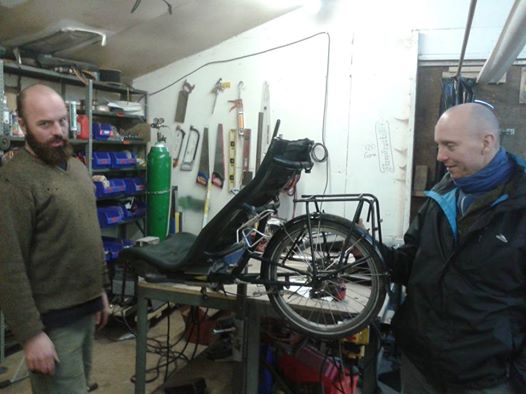 We'll be keeping the design details of this under wraps for now – suffice to say that every detail of the layout of this trailer design is radically different from any used by InnerTuba to date!
We aim to be up and running for 100 miles of initial road trials using this innovative chassis – towing concrete blocks on a makeshift flatbed – by Christmas. Yes, that does mean I will be load lugging on Christmas Day and Boxing Day before tucking into any seasonal fayre, so please think of me as you sit down to tuck in!
Keep visiting to see photos and further reports on its first outings …..