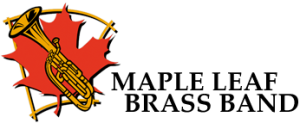 David Druce is the Musical Director of the Maple Leaf Brass Band, from Ottawa, Canada.
He has been very helpful in advising me on music of Canadian origin for inclusion in a new piece for solo tuba and Brass Band – see latest news entry of 14th August, 2013.
For further inspiration, David has generously offered to gift InnerTuba with a copy of the band's CD "Canadian Landscapes", which features music exclusively by Canadian composers.
Find out more by visiting www.mapleleafbrassband.org.